MORE PERSPECTIVES FOR YOUR BUSINESS.

EXCELLENT KNOW-HOW FOR THE MOBILITY INDUSTRY.

Berylls Equity Partners is our entrepreneurial arm. Supported by strong anchor investors, BEP carefully selects, acquires and operationally improves companies in the mobility industry – taking a long-term strategic approach.
INVESTMENT CRITERIA FOR TARGET COMPANIES.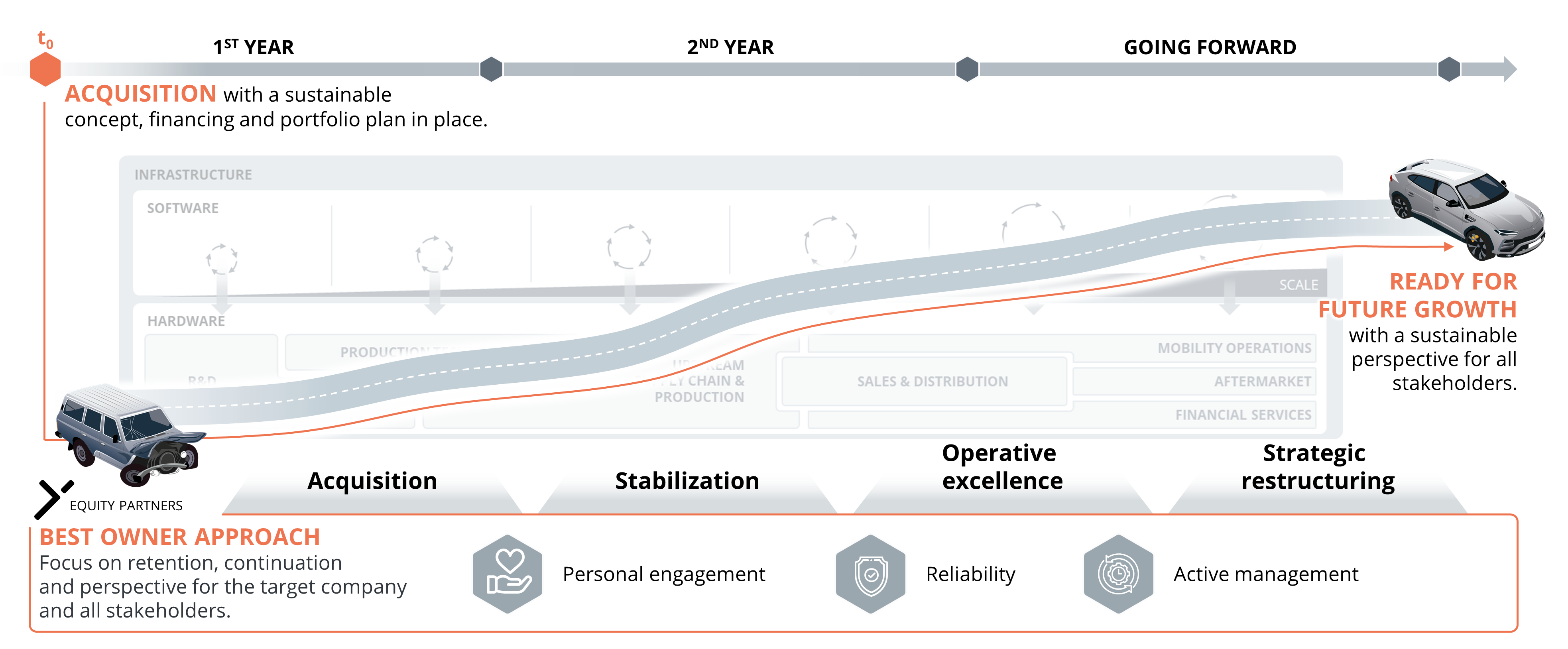 BRANCH
Mobility Industry
PROFILE
Weak earnings
(EBITDA < 5 %): insolvencies, corporate de-mergers, fiduciary executions, succession solutions
SIZE
Medium-sized with revenues of 30 to 300 million euros
TARGET REGIONS
Companies with registered offices or their main activities in Germany, Austria or Switzerland
PARTICIPATION
Majority stakes – although sometimes qualified minority stakes with increased rights
SIZE OF INVESTMENT
Up to 10 million euros per transaction (depending on all-equity-transaction financing)
Takeover 07/2020 | Mechatronics and precision stampings Automotive industry|
€ 40 million turnover
Head office: Villingen-Schwenningen
Seller: private
Year of purchase: 2020
Revenue: approx. 50 million euros pa
Employees: approx. 200
Homepage: www.meku.de
About MEKU:
MEKU provides IT solutions, high-quality industrial parts and components for players within the automotive supplier and synthetic industry. It is focused on the development and production of mechatronic systems for applications in eMobility. It was insolvent on purchase.
Participation:
With our strategic partner Hechinger Group (https://www.hechinger.de/), we took over three MEKU GROUP business areas.
Strategy:
Berylls is supporting Hechinger with capital, know-how and personnel in MEKU'S turnaround and integration phases. We also are involved in developing and implementing strategy.
AUTOMOTIVE SUPPLIER HEINRICH HUHN
Takeover 08/2021 | Formed parts and assemblies Automotive industry |
€ 80 million turnover
Head office: Drolshagen (Sauerland)
Seller: private
Year of purchase: 08/2021
Revenue: approx. 80 million euros pa
Employees: approx. 430
Homepage: www.heinrich-huhn.de/
About Heinrich Huhn:
Heinrich Huhn is a medium-sized automotive supplier based in the region Südwestfalebn and at home in the world of metal forming. For more than 100 years, Heinrich Huhn has earned a reputation as a reliable, honest and competent partner for its automotive tier 1 customers. In the process, the company has successfully undergone the transition from a metalworking company to a leading manufacturer of metal formed parts and complex assemblies primarily for the automotive industry. Based on a wide range of different manufacturing processes, Heinrich Huhn is constantly on the lookout for innovative solutions for its customers. From development to series production, the company covers the entire process chain. Currently, production takes place at two locations in Germany (Drolshagen-Hützemert and Drolshagen-Scheda) and at a plant in Slovakia (Vrable).
Participation:
Together with the management, Berylls has acquired all assets and investments of the insolvent Heinrich Huhn GmbH & Co. KG.
Strategy:
Prior to the completion of the takeover, a sustainable restructuring concept was developed with all key stakeholders (customers, suppliers, employees, trade union, management, insolvency administrator), which will enable a stable and long-term development of Heinrich Huhn. In addition to providing capital, Berylls supports Heinrich Huhn in particular with industry know-how and its network from the automotive industry as well as with human resources for the operational & financial turnaround and the strategic orientation.
PASSION FOR AUTOMOBILITYs.
"BEST OWNER" APPROACH FOR RELIABILITY & ACTIVE MANAGEMENT.
NO TIME TO READ THIS WEBSITE?

YOUR Berylls Team.
T +49-89-710 410 40-0
F +49-89-710 410 40-99